Old Churches in the Parish
According to the tradition, a wall section standing by the chevet of the present church in Noël's field would be the remains of the ancient church whose construction was started by the Marchioness of Bourbon-Malauze.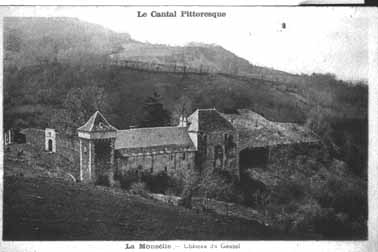 The castle of Murat Rabbe contains the ruins of the old seigniorial chapel. The roof is missing and the southern wall is about to collapse.
The Sabatier Broquin's house located in the village of Lauzeral has a family chapel with ornaments and altar. Yet, the Holy Mass has not been celebrated there for many years, as the communion sheet has not been renewed to this day.
The Present Church
The present church is not old. Its construction started in 1852 under the authority and thanks to the gifts of Father Jean-François Noël, priest of Saint Pierre de Chaillot in Paris. The inhabitants of Muradès put their effort and money in contribution. In 1854, after the legacy of widower Mrs Duthu, things went quicker...
Indeed it was officially consecrated on July 1 1857, date at which the first chaplain took possession.
This church of Romanesque style has only one nave with two chapels forming a cross; it is 24 meters in length. The total width of the nave and the chapel is 15 meters, the nave alone being 8,50 meters wide. The nave is lit by up by four casements, two on each side with stained glasses. Each window is 2.30 meter high and 0,8 meter wide. The choir is lit up by three bay windows with stained glasses. The middle one shows in a medallion the Good Shepherd carrying a lamb on his shoulders with the following inscription below: "Don de monsieur Noël fondateur de l'église". The right-hand stained glass window shows in a medallion St Catherine rested on her chair holding a sword in one hand and a palm in the other hand. The left-hand stained glass window shows St Marguerite in a medallion holding a palm in her right hand and a sword in her left hand.
Above each chapel and on the choir are located the two sacristies; the right hand one is the actual sacristy, the other one being used as a store room for the funeral gear. As it has a chimney it could be used as a chapter room.
The total cost of the church construction may have amounted to 20.000 francs. The church gear - altar, pulpit, confessionals, ornaments, etc. - cost 7500 francs.
The church benefactors include the Noël family from the village, which liberally gave the land necessary to the construction and Father Noël and his worthy heiress Lady Antoine Broquin, born Virginie Sabatier de Lauzeral. The other families of the parish do not account as benefactors. But we must recall that it is thanks to the legacies of Mrs Duthu that the greatest part was allocated.